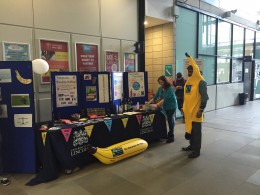 University of Lincoln are taking part in Fairtrade fortnight in order to spread awareness of the farmers who put food on our plates everyday.
In coordination with the Fairtrade Foundation, the City of Lincoln Council are celebrating Fairtade products in Lincoln.
Fairtrade products are those which come from farms or other workplaces where the staff are treated fairly, paid a good wage and work in good conditions.
The fortnight runs from February 29th to March 13th.
The University of Lincoln will be helping out by hosting a number of activities to celebrate Fairtrade. These activities include selfies with the Fairtrade banana, breakfast pancakes with Fairtrade toppings, Fairtrade wine-tasting and a quiz. These will be taking place inside the Minerva building from 10am till 2pm.
It is hoped that these measures will contribute towards re-affirming Lincoln's status as a Fairtrade City.