Hundreds of people turned up to see all sorts of handmade creations at The Lincoln Makers' Market last Friday.
One person displaying their art work was Amanda Brown, who was selling  handmade glass art.
She runs her own business called Amanda Brown Handmade Decorative glass, which she set up three years ago.
She said: "making the art takes ages to do. I cut all the pieces out and put them in a kiln. It takes about 18 hours, and they're made in batches of seven."
As well as the time it takes to make the glass, Amanda said the setting up the stools for her display took one-and-a-half hours.
In addition to the High Street, she goes to the Humber Bridge Farmers' Market and shows in Newark.
Below are some photos of the glass she makes.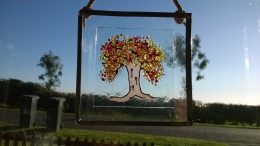 If you missed the market last Friday, there will be another chance to see it, and Amanda's glass art, next week on the 23rd of November.