It's currently the film awards season and one of the more unusual movies taking the spotlight is The Artist. Starring Jean Dujardin and Bérénice Bejo, the film is set in the late 1920s during the decline of the silent film genre – and is produced in that same style.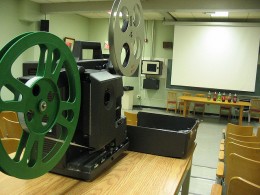 But although silent film may have had its swan song, The Artist is giving the genre a bit of an encore and some people are still enjoying movies with an old fashioned feel. Emily O'Hara is the organiser of an event called Kings of Silent Film which showcases some classics from Laurel & Hardy and Charlie Chaplin.
"I don't know if it's to do with the recession but we seem to be in a nostalgic era where we like to look back. A lot of the vintage crazes such as swing dancing have definitely come back so perhaps that's got something to do with it," she says.
Although the silent films from the 1920s contain many historical references which may be difficult for modern audiences to understand, Emily believes this is part of their appeal: "You're seeing a piece of history and I think people can appreciate what it is."
Silent films normally had a musical backing from a live orchestra, such as with clarinets making the sound of laughter and trumpeters replicating horses.
The musicians at the Kings of Silent Film event had been rehearsing for a month and Emily jokes: "I'm very glad I'm not a piano player!"
"I believe the main thing they found difficult was the cues," she added, "They have to know the films inside out."
With The Artist putting the genre back in the public eye, Emily is hopeful this could lead to a wider revival: "I think this could be the start of a good run."
City Vibe's Jonathan Holmes went to the Kings of Silent Film event to see what the 1920s cinematic experience was all about: