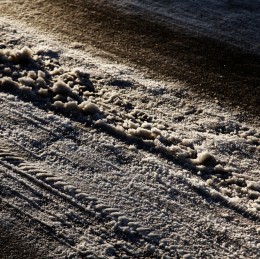 We are told that the worst is yet to come after low temperatures and icy conditions have swept over Lincolnshire.
With snow firmly settled and temperatures reaching as low as -11C, gritters have been out in force on the county's roads to try and cope with hazardous conditions caused by the weather.
Darryl Redford, Director of Development for Lincolnshire Highways and Planning, said that the snow will probably return and it is a possibility that conditions could get worse. He explains, "We've had the forecasts in and the weather isn't going to improve. We're going to be in minus figures for the foreseeable future"
The salt used by gritters essentially reduces the freezing point of water, but when temperatures drop below 8%, the effect of gritting salt decreases. To alert the public of this, Lincolnshire County Council has issued a severe weather warning. Redford said, "Just because we've been out gritting, it doesn't mean there isn't a possibility of ice.
With only 48 gritting machines, another issue encountered by the Highways and Planning team is the vast size of the county. The whole of Lincolnshire is 9000 kilometres in size and Redford explained that the Council would require a budget £12 million to cover the whole area, which is a third of the Highways national budget.  He stated, "We can cover 3000 kilometres a day. To put that into perspective, it's about the size of Northamptonshire".