More than 550 businesses in Lincolnshire have been warned to get ready for new food hygiene legislation or risk losing almost half of their customers.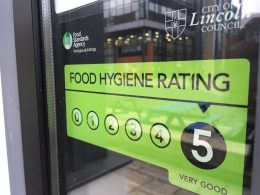 44 per cent of people would physically turn away from the front doors of 560 of the county's businesses including restaurants, fast food eateries, cafés and shops in Lincolnshire when food businesses in England are legally required to display their food hygiene ratings, according to a report by commercial insurer NFU Mutual.
The findings showed one in 12 Lincolnshire food businesses had a rating of '3' (generally satisfactory) or below – significantly better than the national average of one in seven. A business can be given a rating of 0-5 with '0' being "urgent improvement necessary" and '5' being "very good".
Lincoln's businesses are assessed by specially trained officers from the City of Lincoln Council on behalf of the Food Standards Agency (FSA) relating to three factors: food handling, condition of the buildings, and management and record-keeping of food processes.
In Lincoln, more than ninety percent of food businesses in Lincoln have a 'good' or 'very good' which is higher than both the national and county average.
Commenting on the report, Phil Ingleby, Agent at NFU Mutual in Spalding, said: "Our report shows that when it comes to food safety customers have naturally high standards and that a 'good' score can no longer be seen as an aspiration but a minimum benchmark.
"It's fantastic to see that over 92% of food outlets in Lincolnshire have a rating of good or very good and the industry as a whole is taking real pride in food hygiene, but imminent compulsory displays are destined to be a game changer for those businesses struggling to reach the top grades."
Businesses will have to display their food hygiene rating by 2019.