The cast and crew of the E4 hit comedy show The Inbetweeners have been invited to come and experience Lincoln after slating the city and the university on the latest episode of the show.
The city was branded "a shithole", and the university was mocked with the line "…goodbye first rate education, hello University of Lincoln".
Emma Tatlow, deputy chief executive of Visit Lincolnshire, commented "people who know and love Lincoln will have been surprised to hear the comments – as was I."  "If the cast and crew of The Inbetweeners want to visit the city of Lincoln for themselves, we'd be delighted to show them around."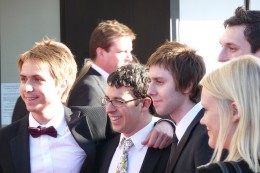 Ian Richards, spokesman for the university said "The Inbetweeners is a very funny comedy series, but perhaps not the most reliable source of information on university standards.
"We'd prefer students to look at national university league tables and the National Student Survey, which show we have one of the fastest-rising universities in the country."
Co-writer Iain Morris has since apologised via his Twitter account. He wrote: "so a friend attended Lincoln uni, it was a joke for them. sorry for the collateral damage we may have caused. why must the innocent suffer?"