Fly tipping has been ruining the countryside and now North Kesteven District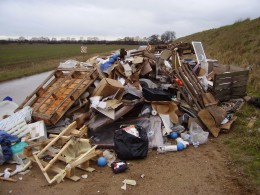 council want residents to fight back. Large amounts of Lorry tyres, Bathroom appliances and domestic waste were dumped near  Norton Disney on Monday.
This has been a constant problem with landfill becoming rapidly full. Nationwide the number of fly-tipping incidents between 2008-2009 was 1.16 million. It is however on the decrease. There are major hazards caused by fly-tipping least of all the environmental damage caused by waste being disposed of incorrectly. The council are appealing for witnesses who may have seen the fly tippers.
Councillor Geoff Hazelwood said "We would like people to get in touch with any information they may have on this incident. Although officers with investigate for evidence, it is crucial to hear from eyewitnesses with any information, for example details of an unfamiliar vehicle.
If fly tipping is affecting your area there are numerous ways to report it. It can be reported either online at www.n-kesteven.gov.uk/flytipping or by telephoning the customer service centre on 01529 414155 or from a Lincoln number on 01522 699699. These are for the North Kesteven area only.