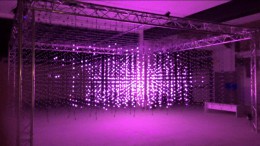 The Frequency Festival has once again returned to Lincoln ready to showcase a range of exhibitions.
The ten-day digital culture event sees artists show off their talent across various locations within the city.
Squidsoup were just one of the artists taking part in the festival with their enlightenment exhibition.
They are based at the Waterside Shopping Centre and will continue to do so for the remainder of the festival.
Anthony Rowe, one of the artists for Squidsoup, said they have done pieces similar to this before.
"Generally, I think the experience is one of 'wow, what is that?' It's quite a strong experience. People do tend to feel it."
Visitor, Ann Simpson, said: "It was beautiful, the lights. And you go in and out and they all change colour. It was magical really."
To hear artist Anthony Rowe speak of his exhibition and hear the views of visitors, listen to the audio file below.
Alternatively, watch the video of volunteer, Iona Carter, talk about her experience of the Enlightenment experience.
Click here to find out more about the schedule and where you can go to experience the digital arts festival.
Frequency Festival ends on November 1.