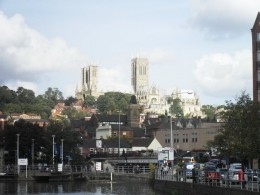 The Digital Frequency Festival was a great success in Lincoln, and now plans will be put forward for the next event.
The festival was two weeks ago, and turned the city into an interactive playground for the school half term, with activities and art exhibitions all over Lincoln.
It featured interactive exhibitions and was a chance for people to see parts of the city they may not usually visit.
It attracted many people, especially families with young children and almost all attractions involved were free.
Speaking about the success and future of the festival, Jeremy Webster, part of the festival steering group said:
"It's still relatively modest, and there are still other places where we want to put stuff and there's more things we can do on the highstreet."
Below, Jeremy talks of plans for the next festival.