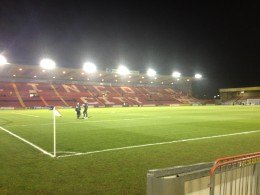 Lincoln City assistant manager Grant Brown believes that his players are being harshly treated by referees this season.
The Imps had captain Alan Power dismissed a few weeks ago in a crushing defeat away at Chester, and Brown thinks it's been an unwarranted theme this year.
"Some of our bookings and sendings off have been very harsh," he said.
"In games where teams have done similar sorts of things, they've got away without being cautioned."
The red card was Power's second of the season and Brown is worried that his players' have become "marked" by officials.
When asked about the issue, Brown said: "As a club, I think we are."
"I think Alan's tackle was born out of frustration but it was no worse than some of the tackles we've had against us."
Lincoln travel to Torquay this evening, looking to turn around their disappointing away form so far this campaign.
Despite being critical of refereeing decisions, Brown was keen to stress the importance of his players' being careful on the pitch.
"We want the players to be competitive but they have to be selective in their tackles as well," he said.
Captain Power is back for the trip down south after his suspension, which Brown admitted is great for the team.
"Before the sending off, Alan had got a couple of goals and he was turning into the complete midfielder," he said.
"He's our captain and he drives us on so it's great to have him back."
By @Ray11Liam