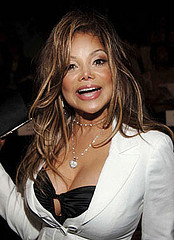 La Toya Jackson has claimed that her brother's doctor should be charged with premeditated manslaughter.
Doctor Conrad Murray is currently facing charges of involuntary manslaughter after singer Michael died in June last year while Murray was treating him.
Last night, La Toya was hounded by reporters while out for a meal in Beverly Hills. When asked what her opinion was of the charges Dr Murray faces, she replied, "I think he should have been charged with premeditated," adding, "This was terribly wrong what happened to my brother".
She also answered, "Absolutely," when asked whether she thought anyone else was involved in the death of the star.
Dr Murray is believed to be presenting himself on Friday to Los Angeles Police, where he is expected to be charged. His spokeswoman has spoken out and said that he is innocent.
"We continue to maintain that Dr Murray neither prescribed nor administered anything that should have killed Michael Jackson," she stated.
Michael Jackson was preparing for a 50-date series of concerts at London's o2 arena when he died last year, after taking propofol, an anaesthetic, which helped him sleep. Dr Murray denies any criminal offences.