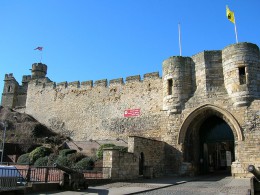 Lincoln Castle has attracted many visitors this year due to a £22 million renovation and the recent crowning of the Best UK Tourism Project Award.
The Castle, which was commissioned by William the Conqueror and has one of the four original copies of the Magna Carta, has brought in 100,000 visitors within the first four months of its restoration.
The 'Lincoln Castle Revealed' project claimed the 'Outstanding Tourism Project Award' on November 2 by the British Guild of Travel Writers. Gillian Thornton, a BGTW writer, nominated the monument commenting on it's range of history and access for the disabled.
The Christmas Market also takes place on the castle grounds and draws in 250,000 visitors every year. It was awarded the Best UK Market last Saturday by the Daily Mail.
Mary Powell, the Tourism Development Manager of Lincolnshire County Council, has said that this year's Christmas Market will be bringing even more tourists into the city this year.