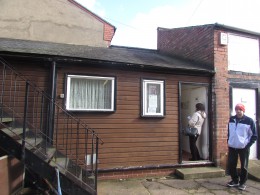 One of the oldest food banks in the area could face closure if they can't find a new home.
The larder recently had to relocate it's food storage unit as well as loosing its connections with larger supermarkets.
The site is currently owned by the YMCA, who have had planning permission granted to upgrade and replace their current building. Once the new build has been completed there will not be enough space for the community larder to remain.
A food bank is a non-profit and charitable organization that distributes food to people who have difficulties that mean they can not afford to purchase food to feed themselves.
Lincoln Community Larder was founded in 1989, the creation of Mrs Mary Eckmyre who had become aware of the need for a stock of basic food for local people that would be available at short notice.
The food bank ran on a voucher system, giving people in need three days worth of food for each person included on the voucher.
This threat of closure comes at a time where the local reliance on food banks is ever growing, with recent reports from the Trussell Trust claiming that Lincoln has experienced a 163% rise in the number of people using its services in recent years.