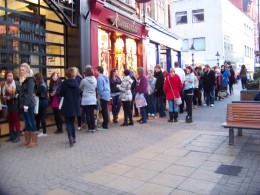 Last night, Lincoln's Waterside Shopping Centre was packed with eager students looking for a bargain.
The shopping centre, situated in the middle of the Highstreet offered a 20% discount on all stock in the stores involved in a "lock-in".
Several stores on the Highstreet also took part. They stayed open until 9pm, three hours later than they would usually close.
Those that attended were asked to show Student ID when they entered the stores to make sure they were eligible for the discounts.
There was a DJ from Walkabout playing music throughout the three hours, and the recently opened Homemade Burger Co. (situated on Brayford Wharf) were handing out free burgers to those that worked up an appetite whilst shopping.
Chantelle Henderson is the Marketing & Promotion Manager for Waterside shopping centre, she spoke about the success of the event and why the shops got involved.