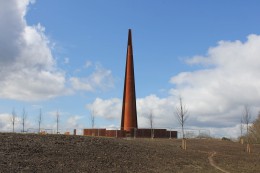 As part of the celebrations for the Queen's 90th birthday on April 21, Lincoln's Bomber Command Memorial will be lit up to celebrate the occasion.
This is part of a nationwide plan to light up over one thousand memorials across the country.
The Bomber Command spire will be lit by 74-year-old former veteran James Flowers at 7:30pm on Canwick Hill.
Nicky Barr, director of the International Bomber Command Centre, said that the Bomber Command Memorial being chosen for the celebration is important for both the city and the IBCC.
Mrs Barr said: "Out of all the site's selected, this was the only one chosen in Lincoln which makes it high profile and it's also recognition for across the UK and the memorial."
When choosing who would light the memorial, Mrs Barr said how Mr Flowers deserved to be the person who lights the beacon. She said: "Since the beginning he's done talks and signings for his book A Tail End Charlie's Story which has raised over £8000 for the project."
With only one thousand sites being chosen, the IBCC had to apply alongside hundreds of other hopeful locations and were happy when they found out days before the official announcement that they were picked.
While the site is still under construction, meaning the event will not be open to the public, Mrs Barr says that it will still be visible across Lincoln for everyone to see.
Beacons will not only be lit in the United Kingdom, but also the Channel Islands, Isle of Man, UK overseas Territories and a Commonwealth Country.