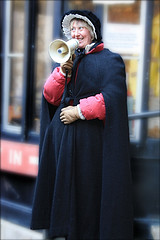 The weather is miserable but spirits remain high up Steep Hill as the Christmas Market starts today.
Bringing over 150,000 visitors to Lincoln this is the biggest event of the year for the city.
Inspired by Lincoln's twinned city of Germany, Neustadt an der Weinstrasse, the market holds plenty of traditional stalls with trinkets to treasure and food to devour.
Our news reporter Mike Worne has been there this morning to find out how the preparations are going, and what stall owners expect from this year's event.