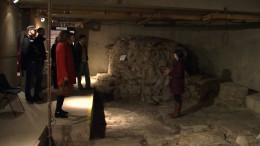 The ancient Roman entrance to Lincoln has been opened to the public giving people a rare glimpse of the city's long forgotten past.
The Posterngate entrance is buried fifteen feet below a high street bank and the crumbling gateway was left undisturbed until 1973.
Posterngate opens its doors to the public only a few times every year in order to preserve the site for future generations.
The Roman ruins were built 100 years before the Roman Empire left the country in the 4th century.
Posterngate will next open to the public on the 13th of June.