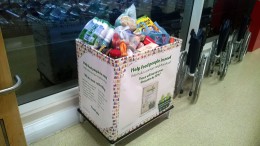 Almost a quarter of children in Lincolnshire are living in poverty. 
A report, carried out by the government has revealed that they will be unable to meet its target of halving child poverty by 2020.
In Lincolnshire, 23.8 per cent of children are living in poverty, compared to the national average of 27 per cent of all children.
Bethan Lloyd, co-ordinator at Lincoln Food Bank has said: "We just don't know who's going to walk through the door."
She stressed that the situation for some families with young children is severe: "We meet parents who are alternating who is eating dinner every night to make sure their kids don't go hungry."
Ms Lloyds explained there has been a rise in the number of students using fo0d banks across the city of Lincoln.
Alan Milburn, chairman of the Social Mobility and Child Poverty commission said that child poverty is on the rise and 3.5 Million children in the UK currently living below the breadline.