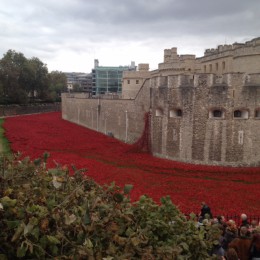 Lincoln castle will be filled with almost 900,000 poppies next year as the London poppies tour prepares to come to the city.
The display of remembrance that was visited by almost 5 million people will be touring the country, stopping off at Northumberland and Yorkshire as well as Lincoln.
Paul Cummins' installation of poppies, The Wave, opened at the Tower of London this year to mark one hundred years since the start of the first World War. Each of the poppies represents the life of a British solider who died in battle.
The installation that raised £9m for six military service charities, such as Help for Heroes, is due to move to Lincoln Castle from 28 May to 4 September 2016.
Earlier this year, Lincoln Castle underwent a £22m renovation, which included the building of a new vault to house one of four original copies of the Magna Carta as well as opening up full tours of the grounds.
Below is a collection of clips of the The Wave at the Tower of London and the Lincoln Castle where the installation will be from May 2016.