One would have a tough task ahead of them to find a more down-to-earth footballer than Scunthorpe United midfielder Neal Bishop.
Nothing came easy for the 36-year-old Iron player after falling out of the Middlesbrough F.C. academy as a teenager. He had to claw his way back and earn every bit of success that he's had. 
It wasn't until he was 25 that he broke back into the Football League with Barnet following spells at Billingham Town, Gateshead and Spennymoor Town. Now, 11 years on, he has captained the Iron at the Riverside Stadium against his boyhood club and lined up against the likes of Patrick Vieira and Alessandro Del Piero.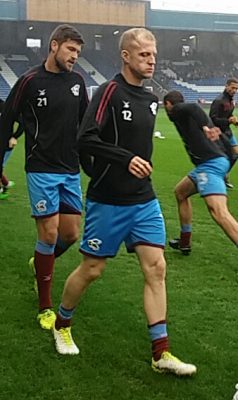 The Stockton-On-Tees man puts a lot of this success down to the work ethic that he inherited from his local community. Having grown up in a working-class family from a working class area he saw his father's hard-working attitude towards earning money and took it with him into football.
Bishop said: "I've never asked anyone for anything. I've always worked for everything since leaving school.

"When I've been sitting on the bench or not involved on a Saturday I get an unfulfilled feeling at the end of the week that I haven't earned my money. This club pays me to be at our training, to be committed, to help every day and to be producing on a Saturday or Tuesday whenever we play. Therefore, that's what I try to do."
Having looked to his father for advice Bishop is now able to pass on his own legacy to his son. Oscar has become a bit of a regular at Glanford Park, appearing as a mascot on a number of occasions.
Bishop said: "When I'm playing in front of him it means the world to see his little face and it's one of the things that keeps me going and keeps driving me on."
There are many talking points in Bishop's career but after being asked to reflect on them his modesty shone through. He chose to use the question to shine a light on the quality that he saw slip through the cracks in non-league football and the struggle that exists to make it professionally.
He said: "The lads at the top level that have been in non-league like Troy Deeney and Jamie Vardy are great stories because there are so few of them. I thought that there were some better players than me in non-league football that never got their chance.
"A lot of those lads have got the drive and determination that it takes. They've been out in the real world, and have combined work with football like I did at Gateshead. I'd be getting up at six in the morning but it wasn't a hardship because I wanted to play for Gateshead that badly."
At his age it would be silly to not assume that he has one eye on his next role in football and he is in fact already putting in the groundwork having earned his UEFA B licence over the summer.
The Iron player hopes that he can use his story to influence the 'sheltered' youth players of today.
Bishop said: "I think that a lot of these kids nowadays don't understand what it's like going out into the real world. They're sheltered in football and I think that I've got a lot of experience in what happens when you drop out of the game.
"I've done it and it's hard to get back in. Therefore, if I can go in there and give some of these kids the benefits of my experience then it will be a pleasure to do it."