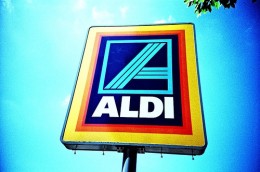 German discount supermarket Aldi is planning to open its first store in Lincoln. They are hoping to gain a site off Wragby Road near to the 24-hour Tesco.
Aldi is apparently proposing to take over a series of shops that are currently Furniture Clearance Outlet, Croft Carpets and Coral Bookmakers. The discount supermarket says that it will bring about 30 jobs to the city.
There are also proposing to take over a near by car park, which will have spaces for residents will be able to use it as well as customers.
There will be a meeting on Thursday February 11th, held by Aldi, before the planning application is submitted to the City of Lincoln Council next month. This will be an opportunity for the Aldi team to answer questions about the proposed move and give residents a chance to give feedback.
Liz Welbourn, the senior estates and propery manager at Lincolnshire Co-operative, said to The Lincolnshire Echo: "We are aware of Aldi's interest in this site…there have been discussions but there are no agreements."
Aldi is a supermarket that is proud of its simple layouts and predominantly sells own brand products.