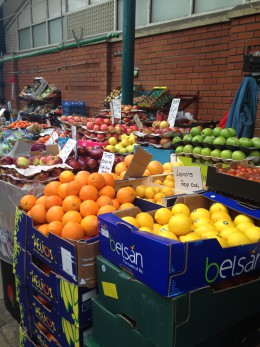 Around half of children between the ages of seven and 12 are not eating at least one portion of fruit and vegetables every day a survey by BBC Newsround has found.
It was found that fewer than half of children surveyed in the UK  have a daily home cooked meal with up to a third admitting that they eat unhealthy meals up to three times a week.
With the government recommending that we eat five pieces of fruit and vegetables a day this is not being met.
This has been shown with 52 out of 100 people not eating vegetables and 44 out of 100 not eating any fruit on a daily basis.
This has been met by a high alert of concern with one in three children in the UK being obese or overweight. This is a figure that has trebeled in the last 25 years.
Lizzy Haywood, mother of two, 32, has told us that her children eat fruit and veg and how important it is to eat them. "I first started feeding my children fruit and then led onto vegetables. It is really important that they eat these as it helps them grow, to eat healthy and encourages them to try new things."
Experts have said that a lot of children are trying to make a positive change to their diets.
This has been suggested in the last few years with eight in 10 children having started making changes such as drinking more water and trying to eat more fruit and vegetables.
It has been emphasised that though children can eat sweets and chocolate this should all be in moderation and should not be something that should be eaten every day.
If you want more information on healthy eating click here.