A refugee charity has condemned the Home Office's decision to house thousands of asylum seekers at RAF Scampton.
The former Dambusters HQ was selected by the Government to house up to 2,000 migrants, however, legal action has been brought against the Home Office by West Lindsey Council, who believe the site is unsuitable for this, and whilst scuppering a £300m regeneration project.
Enver Solomon, CEO of the Refugee Council, a charity for asylum seekers in the UK, agrees with the council and fears that accommodation would be unsuitable for people fleeing conflict.
"Military bases like RAF Scampton are wholly inadequate to house vulnerable men, women and children who have come to our country in search of safety."
"The Government must urgently address the backlog and replace the chaos and cost that we're seeing with an approach that is orderly, well-run and humane," said Mrs Solomon.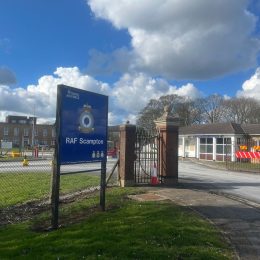 The plans would obstruct a £300 million investment plan that aims to improve the areas around Scampton and turn the base into a heritage site. This will also involve working closely with universities in Lincoln, Nottingham and Leicester to develop flight technology for East Midlands Airport.
Christine Sneath, vice-chairman of Scampton Parish Council, said that the council is concerned about the impact that these plans may have on the potential project.
"Our main concern is absolutely getting this project through as it's a fantastic project for the local area."
"We are working closely with West Lindsey council to try and make sure this regeneration plan doesn't get cast aside," said Mrs Sneath.