A survey to record sustainable travel data will launch on Monday. The Siemens Sustainable Travel Project; which is in support of Lincolnshire County Council's Access LN6 initiative, will see employees recording their daily journeys through out February March and April.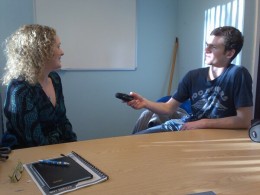 Access Ln6 is a £6.5 million programme to improve sustainable transport options in the LN6 area, and the Survey carried out by Siemens will contribute baseline data towards this programme with up to 500 employees expected to take part.
Cllr William Webb, executive councilor for highways and transportation at Lincolnshire County Council, said:
"Lincolnshire County Council is delighted that Siemens are supporting the Access LN6 project by encouraging their employees to travel to work sustainably. Recording Siemen's employees travel patterns will enable us to see how the Access LN6 programme can support Siemens, and other businesses, in the LN6 postcode."
Chantelle Grundy, the project manager for Access LN6 spoke about more projects to come, saying:
"There's lots of exciting projects to come with this programme. Something I'm currently looking in to at the moment is on the pool bike side of things, and potentially a bike hire scheme.
"We're keen to improve congestion in the area and get lots of people out of the cars, on to more sustainable modes of transport."