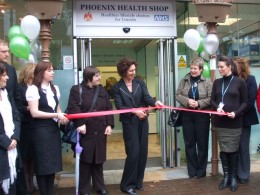 Earlier this week Health Secretary Andy Burnham pledged to halve the number of smokers in England by 2020.
At the minute, an estimated 21% of the population smoke, that's 8 million people. The aim is to reduce this to just 10%, meaning that by 2020 only one in ten people will be smokers.

The government is considering plans to stop cigarette vending machines and banning smoking at the entrances of buildings.
Today, Lincoln MP Gillian Merron opened the Phoenix NHS Stop Smoking Service to offer help to smokers wanting to kick the habit.
The health club is in the City Centre where the old tourist information centre closed down.
Gary Burroughs from Lincolnshire Community Health Services told Siren FM about the new organisation and how it can help the smokers in Lincoln want to quit.