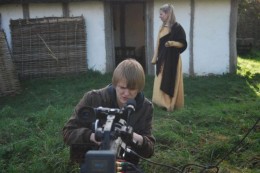 Five students from the University of Lincoln have secured a deal with Lincoln's Odeon Cinema to have their short film played on the big screen.
The five students produced the film as apart of an assignment for their media course at the university. They secured the deal at the Odeon after approaching the manager with the film.
The film, entitled Northmen, is a viking history film set in the year 1005 and tells the tale of four soldiers abandoned behind enemy lines. It was written, filmed and produced from scratch for just £300 yet has been made to an impeccable standard.
It has already recevied national acclaim from some of the UK's leading names in cinematography and recevied rapturous applause at its premiere.
The guys are now looking to enter the film into festivals acorss Europe and have high hopes for its success.