Well if you were planning on jetting away for the weekend and have had your travel plans disrupted I've got a guide what's on in Lincoln this weekend.
Cinema
Well there's a couple of new releases for you to see this weekend.
First up is Dear John, a drama based on the book by Nicholas Sparks, who has also written books like The Notebook and Nights in Rodanthe which have also been made in the films.
It's a typical love story, about a young soldier John Tyree, played by Channing Tatum, who falls in love with Savannah Curtis, played by Amanda Seyfried. It follows their relationship over several years while John is deployed overseas, while they keep in contact through love letters.
Now, if The Notebook and Nights in Rodanthe are anything to go by, it's like to be a tearjerker, as films that are based on Nicholas Sparks novels often are.
The Ghost is another new release, starring Ewan McGregor, Piers Brosnon, and Kim Cattrall and directed by Roman Polanski. The film focuses on a British ghost writer who has been given the task of compiling former British Prime Minister Adam Lang's memoires, after the first ghost writer mysteriously died….
Cemetery Junction, the film written and directed by Ricky Gervais and Stephen Merchant is also out in cinemas for you to see this weekend. Starring Ricky Gervias himself, along with Ralph Fiennes and Julia Davies, the funny and heart-warming film focuses on the lives of three childhood friends in 1970s England, as they make life changing choices about their career, friendship and love lives.
Now, if blood and guts is more fitting to your cinema taste then Repo Men has also been release in cinemas today. The futuristic action thriller stars Jude Law and Forrest Whitaker and sees Jude Laws character Remy, receive a mechanical heart from The Union, but he can't keep up with the re-payments and is being hunted down by The Unions toughest enforcer…exciting stuff!
Weekend TV
 Now if you'd rather stay in this weekend there's an exciting three days of TV ahead of you. 
 Tonight there's Ashes to Ashes on BBC 1 at 9pm, or alternatively Embarrassing Bodies on Channel 4 or The Mentalist on Five. If you're looking for some laughs then Facejacker is on Channel 4 at 10pm, or indulge in some hospital drama with Grey's Anatomy on Five. This week on BBC 1 Jonathon Ross is joined by 24 star Keifer Sutherland, Clash of Titans actress Gemma Arterton and The Wire star Idris Elba.
 There's big TV on Saturday night, with the return of Britain's Got Talent to our screens! Yes, that's right, Cowell and co are back for the new series of the talent show which will see talented, or maybe not so talented hopefuls, audition to be in with a chance of winning £100,000 and the chance to perform at the Royal Variety Performance.  
 Apparently Simon Cowell has said that he would really love a dog act to win the show this year, as he wants to find the new lassie. Good news then for hopeful Tina Humphrey and her ballet-dancing dog Chandi. Other notable acts included ten-year old Chloe Hinckinbottom who wowed the judges with her rendition of Vera Lynn's 'White Cliffs of Dover', and has been dubbed the new Susan Boyle.
 But, unsurprisingly, there were some unusual 'talents', for example, a woman who tried to feed her parrot mashed potato, attempts to make music by blowing a hosepipe into a teapot while wearing a penguin glove puppet, and a special performance by a group of gentleman who were naked apart from some strategically placed balloons.
 Now, Simon Cowell has admitted that he has concerns for this series of Britain's Got Talent, after the controversy of last year's series, in particular the public breakdown's of Susan Boyle, thought to be caused from the pressures of sudden fame. Cowell has said that before any acts are put through, producers will try to determine if they will be able to handle the pressures of the live shows.
 Britain's Got Talent returns at 8pm tomorrow on ITV, and is followed by Britain's Got More Talent on ITV2 at 9.30pm.
 Moving on to Sunday night, Desperate Housewives is on E4 at 10pm, which sees the ladies of Wisteria Lane trying to cope with their lives after the plane crash. Bree has to cope with disabled husband Orson and with the death of her lover Karl. Meanwhile Susan discovers that Karl (her ex-husband) had shares in a strip club which he left to her, and then she discovers that current husband Mike is a regular attendee to the establishment.
 Moving on now…on  Monday musical high school drama Glee is back after a 3 week break at 9pm on E4. After winning sectionals the group are intent on continuing with their success, but as always Sue Sylvester will be intent on ruining the glee club….
Local Events
 Tonight the Drill Hall plays host to comedian John Bishop for his 'Elivs has left the building' show. The event is sold out, but if you have tickets the show starts at 8pm.
 Tomorrow night there's an evening of Jazz music from Geoff Gascoyne's Bop Pop, and will play music from modern artists such as Take That, with a jazz twist. Tickets cost £12 for adults and £10 for concessions,  and there are some still available. Visit www.lincolndrillhall.com for more information, or call 01522 873891.
 Meanwhile, Bernie Nolan is appearing at the Lincoln Drill Hall at the moment in 'Mum's the Word', an award winning theatrical performance looking at the comic ins and outs of motherhood. Ticket prices start at £14.50 and is on tonight at 7.30pm and tomorrow at 5pm and 8pm.
 Also coming up at the Theatre Royal on Sunday is Debbie Reynolds Alive and Fabulous, an uplifting evening of comedy and music from the star of Singing in the Rain and The Unsinkable Molly Brown. Tickets are still available and start at £22.50. Visit www.lincolntheatreroyal.com or call 01522 519999 to book.
Glastonbury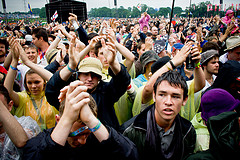 And finally….the line up for this year's Glastonbury festival was revealed yesterday. The legendary festival, which runs from the 23rd to 27th June, will be headlined by Muse, U2 and Stevie Wonder, and other acts include Snoop Dogg, Willie Nelson, Faithless, Florence and the Machine and Scissor Sisters.