Organisers of Lincoln Drill Hall's first inclusive dance festival are calling for disabled dancers in Lincolnshire to be given more opportunity to perform.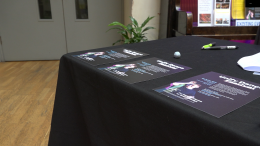 The Unify Dance Festival was founded by ArtsNK this November and offered the chance for performers with disabilities to take part in workshops and perform on stage.
Emma Bouch, the coordinator of the event, said: "There is a real need across Lincolnshire to give people with disabilities the chance to dance on stage."
Ten schools and community groups attended the festival, and around 150 tickets to the final performance were sold.
Ms Bouch added that high participation in the event shows that disabled people in the county want to get involved.
Ian Brown, head of Active Lincolnshire's Get Out Get Active project, said: "Opportunities available to dancers with disabilities is limited across Lincolnshire.
"ArtsNK is helping, though, by signposting events people can attend."
Active Lincolnshire promote sport across the county on behalf of Lincolnshire County Council.