The NHS hospital waiting list is almost 200 times higher than pre-pandemic with one in ten people in England waiting for treatment.
The current waiting list stands at 6.1 million people and 2.3 million people have been on there since May 2020
In February 2022, 300,000 people were waiting over a year for treatment whereas in February 2020 only 2000 people were waiting.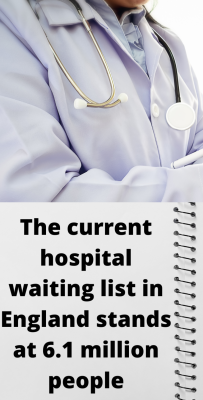 < Infographic of doctor and statistic >
Jo Woodhouse, a nurse from Lincoln has said "the wait and backlog has come from appointments getting postponed during covid. We are doing our best to get back on track and see everybody as quickly as we can."
The waiting list includes patients that require care but have either not yet been presented with it, or who have had referrals cancelled.
Neal Diplock, a resident from Lincoln who was waiting for a knee operation had his hospital appointment postponed earlier this year and he says "I was given no confirmed date for my appointment and was just waiting for a letter to come through the door. I understand my care isn't as prioritised as a cancer patient, but it was affecting my day-to-day life."
< Lincoln County Hospital sign >
The NHS has a new care plan which gives patients the chance to see how long they are likely to be waiting for their procedure at any NHS hospital.  The wait times in Lincolnshire are exacerbated by the wait times in other areas of the country.  In East and North Hertfordshire, the wait time for nose, throat and ears is 22 weeks whereas it is 42 weeks in Lincolnshire.