Spiralling energy costs are hitting High Street businesses harder than the Covid-19 pandemic.  
The #BusinessSOS campaign was joined by Lincoln BIG (Lincoln Business Improvement Group).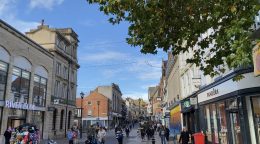 Lee Roberts, Operations Manager at Lincoln BIG said "…When the campaign was in its early stages, we straight away said we wanted to support it.
One of the main objectives of Lincoln BIG is to be that lobbying voice for our members and collectively we can represent just over 800 businesses, we can join in with Leeds, Manchester, Nottingham and suddenly our voice is a lot bigger rather than the business trying to do that themselves"
By conducting surveys with #BusinessSOS, Lincoln BIG can gather evidence as well as  push their core work and activities such as "CCTV City Lincs Radios giving greater connectivity to each other, and street dressing to get people into the city centre"
The Croydon BID (Business Improvement District), Bart & Taylor and support of  multiple BIDs and organisations such as the Association of Town and City Management, British BIDs and  British Beer and Pub Association, collectively represent over 150,000 retail, leisure, hospitality and tourism businesses.
According to the Office of National Statistics  customers are buying less than before the global pandemic due to rising everyday costs.
The Figure shows the quantity bought (volume) and amount spent (value) in retail sales over time. Sales volumes fell by 1.4% in September 2022, continuing a downward trend since Covid-19 restrictions were completely lifted.
Matthew Sims, #BusinessSOS Founder and CEO of Croydon BID, states that, "To say the energy crisis is worse that the pandemic is not an understatement, it is the reality facing businesses today and why the clock is ticking for the new Government to provide clarity and introduce measures providing tangible and immediate relief."
The #BusinessSOS campaign proposes a three-point-plan stating that 'mass closures and redundancies are inevitable' if Government does not implement appropriate measures.
These include reducing VAT, headline rate, 100% business rate relief and a discounted energy rate on all business energy bills.
To find out more visit: https://www.lincolnbig.co.uk/news-events/news/business-sos