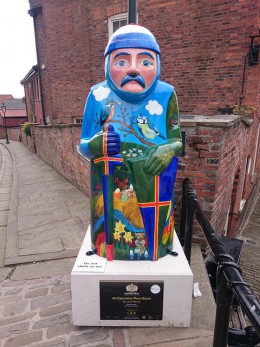 Lincoln's Magna Carta anniversary celebrations are continuing into the Christmas period.Businesses across the city are displaying their own mini festive barons.
Window displays, checkouts, bars and restaurants will all have their own individually painted baron statue.
The statues are a nod to the popular Lincoln Baron's Charter Trail that raised more than £167,000 for The Trussell Trust over the summer.
The public are being encourage to post photos and vote for their favourite barons on Facebook, for the chance to win prizes and receive special offers from businesses in Lincoln.
You can take part too and buy your own mini-baron to paint and decorate yourself from Lincoln Visitor Information Centre.
LSJ News spoke to Phil Martin, a Lincoln Baron painter, about the miniature festive barons.