Whether you enjoy the mini-figures or the big Star Wars sets, it's the famed toy that is loved the world over.
Now, Lincolnshire is getting in the Lego mood, with a new evening group for enthusiasts and a shop dedicated to the iconic bricks – opened by a former plumber.
Brick Lincs run a Lego convention each year in the city, but following suggestions, held a social evening for enthusiasts.
Miles Fielding, head of Engineering at Lincoln UTC, ran the event. At least 30 people attended the get-together, which was attended by "Lego fans of all ages".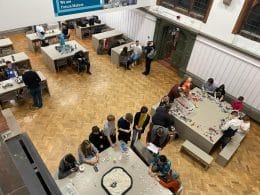 The event, held at Lincoln UTC on October 19th, 2023, involved Lego-fanatics sharing building techniques, personal projects, and talking about why they love the brick so much.
"Not knowing how popular the evening was going to be we were a little unsure of what activities to put on," says Mr Fielding.
"Following the success of the first evening, there's already a plan to make the next event even better, it's a great way to learn new skills and socialise."
Lego is the most well-known toy shop in the UK, recognised by 92% of people, according to Statista.
It's not just Lego events taking place which shows the love for Lego in Lincoln however.
Brickz Kingdom is a Lego store selling new, old, sealed, retired and used Lego sets. From personalised minifigures from £3, to the Eiffel Tower set worth £554.99, it sells everything Lego.
Former plumber, Trevor Baker moved to Lincoln from the South Coast last year to set up the shop after rediscovering his love for the bricks in 2018.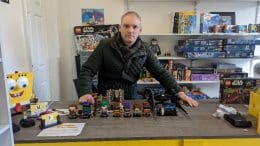 "I found it relaxed me, every time I finished my weeks plumbing, I'd go out and buy Lego. That was me treat," says Trevor.
"We went into Covid (lockdown) and Lego got me through, came out of lockdown and said life's too short, decided to sell up (the house), move to Lincolnshire and set up the shop."
And it's certainly been a successful switch.
"When I get certain sets in, they'll sell within a day," says Trevor.
The next Brick Lincs social meeting is due to take place at Lincoln UTC on the 6th December.