Lindum Hockey Club's men's first team maintained their unbeaten run and top of the league status with a 4-1 victory over Beeston's second team.
The Yellow Submarine won 4-1 and displayed dominance throughout the game showing why they're still unbeaten and they remain at the top of the England Hockey Conference North with 19 points from seven games.
The game started off quite even between but Lindum gained the upper hand as each quarter passed.
Action from the first quarter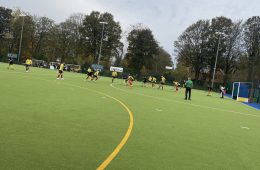 Manager Mark Sadler was impressed with the performance "all round a solid performance, it went a bit wayward in the second quarter but we stuck to the plan to pull it back and that's what the lads are training for on a Tuesday night."
Lindum took the lead in the first quarter from a set piece as Matt Parker's trademark drag flick into the bottom corner six minutes into the game.
The score remained the same going into half time.
The dominant third quarter was orchestrated by James Niven, who put in a great performance with his past paced gameplay.
Ben Read scored both goals in the third quarter, the first goal being a deflection from a corner and the second goal coming after some well worked team move with the final pass coming from Niven.
But a standout moment from the fourth quarter was a double save from Beeston's goalkeeper in the third minute.
The Nottingham based side got a goal back in the eleventh minute of the fourth quarter from a corner, but then Lindum wrapped up the game in the last moments as Harry Antill ran up the field and took the ball around the keeper to seal the game.
Lindum are remain at the top of the English Hockey Conference North and their unbeaten run continues to 30 games across three seasons and it is hoped that this run will continue with Sadler stating that 'it's a long way to go.'
A good chance for Lindum.
Player coach Matt Bell said: It's a massive achievement, but it puts a target on our back for other teams."
Lindum's next game is against Brooklands Manchester University on Sunday at home.