A Lincolnshire MP says that "the armed police model in Westminster would not work well in constituency surgeries".
Conservative MP Matt Warman, who represents Boston and Skegness, says that in an ideal world constituency surgeries "are just walk in and out without any security".
Mr Warman added: "There's a different type of atmosphere with the type of bouncer you get at a nightclub versus protection of political figures.
The review of MPs' security comes after the death of Sir David Amess MP who was stabbed to death outside his constituency surgery in Essex.
Since the killing, Lincolnshire Police have contacted MPs about security.
Judith Kent, Communications and Media Advisor, for Lincolnshire Police said: "We have contacted all MPs individually to ensure they are aware of all advice pertaining to their personal safety and security."
She added: "There is a range of security options and support available under Operation Bridger. Operation Bridger is a nationwide police protection programme which provides additional security measures to all MPs."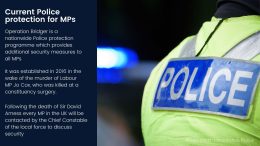 Mr Warman has a hybrid model for his constituency surgeries, with hidden security.
Mr Warman added: "It would be a good version where people don't necessarily know that anyone was conspicuous. You see people on the red carpet with huge protection around them and you don't even know they are there."
"It's all about visibility and MPs being a meaningful part of the community. People seeing us at a village fete or a surgery feel more comfortable about us being out and about."
Previously, Mr Warman has dealt with a small number of death threats such as people turning up at his constituency office in Boston.
"We've had people turn up aggressively at the office but it has never been felt you would have been in imminent danger. I'm very lucky as a male MP, I get far less abuse than female MPs do."
MPs posted on social media showing themselves going ahead with constituency surgeries in a signal the attack would not deter them.
This includes Mr Warman, who tweeted that "this morning a number of people said they were surprised to see an MP out and about – representatives being approachable is a foundational part of our democracy."