Plans have been submitted to create an apartment block of 47 en-suite bedrooms for student accommodation.
Lincoln City Council have received an application and are reviewing the prospect of more student housing.
There have been four other applications that have been approved by the council within the last year, some which have already commenced construction.
The Golden Cross pub will be demolished to make way for more student accommodation providing that applications are approved.
Student housing is currently being built across Lincoln with just short of two-thousand new rooms for student accommodation.
With growing interest in the University of Lincoln from students, as a result of rising in the ranks of the Guardian University Guide to 22nd accompanied by positive student feedback.
Accommodation is becoming increasingly important in central Lincoln for the rising numbers of students.
University of Lincoln spokesperson said: "More and more students from across the UK and overseas want to come and study here.
"We know that they often want to live in purpose-built student residences on or close to the campus."
Although student accommodation is being built across Lincoln, this new build has a unique location on the High street.
This project is small scale in comparison to other builds in process.
Other new student accommodation plans like St Marks, will include extra car parking and other retail prospects to create diversity within the area.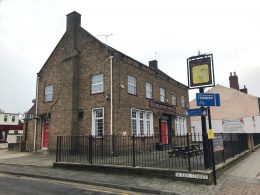 Lomas Architecture Design and Developments Ltd are the developers for this site.
Chris Henderson, Managing director of Lomas Developments said: "The site at the moment is set back from the street which is uncharacteristic of the area, we can improve the street view.
"It is a desirable location with access to Brayford Warf North and the High street."
The location of the new build is a 20 minute walk from the University and a short direct walk into the City centre.
The Pub which has achieved five start reviews online have had to close due to a reduction in business.
Chris said: "The problem for businesses is a down turn in customers and this results in closure."
The construction of this site will take a couple years if the application is accepted by Lincoln City Council.
For further information visit: https://development.lincoln.gov.uk/online-applications/