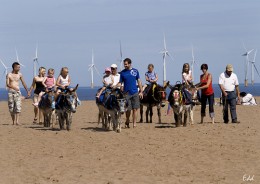 Families in Lincolnshire are choosing  a day out in Britian, instead of a holiday abroad says Charlie Marshall of Marshall's Coaches in Sutton-on-Trent.
Although a trip to the seaside has been a household tradition for many years, Charlie believes that the recession has resurged the popularity of Summer day trips.  " We saw a very big rise in our coach tours, as in day trips, last year. We had quite a lot of full coaches" she said. The family coach company welcomed almost 2000 passengers on one of their tours between the months of June and December last year.
Charlie explained that they are promoting their summer trips now, and expect to take on an extra 70 per cent of work in the Summer. They have a variety of trips accross the country, that appeal to families; " We do children's trips to Twycross Zoo and Chester Zoo, trips to the seaside and things for the elderly" said Charlie. In addition, they have shopping trips to towns and cities.
The recession has meant that a lot of families have had to cut back on thier spending. Marshalls has seen an increase of families booking onto their coach trips in the Summer.
"I think people can't afford holidays abroad so they are choosing days out instead" explained Charlie. For more information on the tours that Marshalls offer, please visit http://www.marshallscoaches.co.uk/.
You can here the full story by Emma Greatorex here